Granite Edvance Scholarships
Granite Edvance is proud to offer scholarships each spring to New Hampshire undergraduate students. In 2023, we awarded over $300,000 in scholarships to 93 recipients! Find out how to apply.
Do I qualify?
In order to be eligible for a Granite Edvance Scholarship, you must meet all of these criteria:
Be a New Hampshire resident, though you may attend college out of state
Be enrolled in college at least half-time
Be a returning undergraduate student (non-freshman) in Fall 2024
Show financial need
Have a GPA of 2.5 or higher when you apply
Please note: Prior Granite Edvance (formerly NHHEAF) Scholarship recipients are welcome to reapply, although first-time applicants will be given priority.
What scholarships are available?
We offer four types of scholarships each year. You can apply for multiple scholarships, but you're only eligible to receive one.
The Granite Edvance Community Service Scholarship: Submit an essay showing your commitment to community service through extracurricular activities, employment, volunteer work, etc.
The Granite Edvance Academic Excellence Scholarship: Submit an essay describing your academic accomplishments. GPA will be considered strongly for this scholarship.
The Granite Edvance Leadership Scholarship: Submit an essay showing your leadership abilities, or your commitment to developing leadership skills. You can show leadership through your academic program, extracurricular activities, employment, volunteer work, etc.
The Granite Edvance Opportunity Scholarship: This scholarship is for first-generation college students. Submit an essay showing how you have created opportunity for yourself, and what a college education means to you.
When can I apply?
Application for Granite Edvance Scholarships will open in March 2024.
Past Granite Edvance Scholarship Recipients
We asked our 2023 scholarship winners to share their stories. The following profiles were assembled from the winners' application essays, phone interviews, and email correspondence.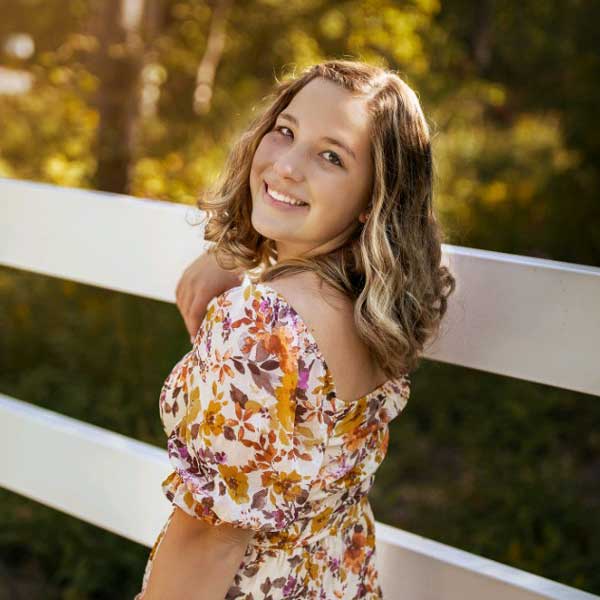 Brianna Pinter
Weare, NH
University of Minnesota, Twin Cities, 2025
Opportunity Scholarship
Brianna Pinter
When her educational goals took her thousands of miles from home to the University of Minnesota, Twin Cities, Brianna Pinter knew that staying in her comfort zone wasn't an option. Still, taking social risks wasn't easy.
"It was daunting, at first, to move halfway across the country for school," said Brianna, a first-generation college student. "I had very little guidance and didn't know the best steps to take that would set me up for success."
Little by little, Brianna began to make connections. She set up meetings with career counselors and coaches on campus, got a work study job, and joined a student group on campus. "I learned that the key to finding opportunities is to put yourself out there," she said.
Now that she's found her footing, Brianna has her sights set on a career as a child psychologist. "I experienced some trauma during my childhood, and I never received the counseling or therapy that I needed to cope with the effects of it," she said. "I am pursuing this field of study because I want to provide that support to children who need it."
Hannah Peterson
Hudson, NH
Saint Anselm College, 2024
Leadership Scholarship
Hannah Peterson
COVID was tough on college kids. If they were lucky enough to be on campus at all, students ate their meals in their rooms by themselves instead of mingling with their peers. As the plastic containers piled up during that challenging year, Hannah Peterson found her purpose.
Noticing that there was only one recycling dumpster on the Saint Anselm campus, she got to work surveying students and found that many were not recycling as much as they wanted to. Some were taking their recycling off campus. She then used her position as a class senator in the Student Government Association to get an empty trash dumpster converted into a second recycling bin – building support among students and working with administration to pass the resolution.
"I think what really motivated me was hearing that other people really cared about it too," said Hannah, who is double-majoring in politics and environmental studies. "It was really exciting to see people coming together around something we were passionate about."
Hannah went on to co-chair Saint Anselm's "Respect the Nest" committee, building its membership from just six students to nearly 30. "I have learned that being a leader doesn't mean being the loudest voice in the room," she said. "It's about listening to others and encouraging new ideas."
Last year, Hannah worked as a substitute teacher in her local school district to help pay her college bills, often rising at 5 a.m. on days she didn't have class. The NHHEAF Network Scholarship will allow her to stay focused on her studies during her senior year. "This is a really huge blessing," she said.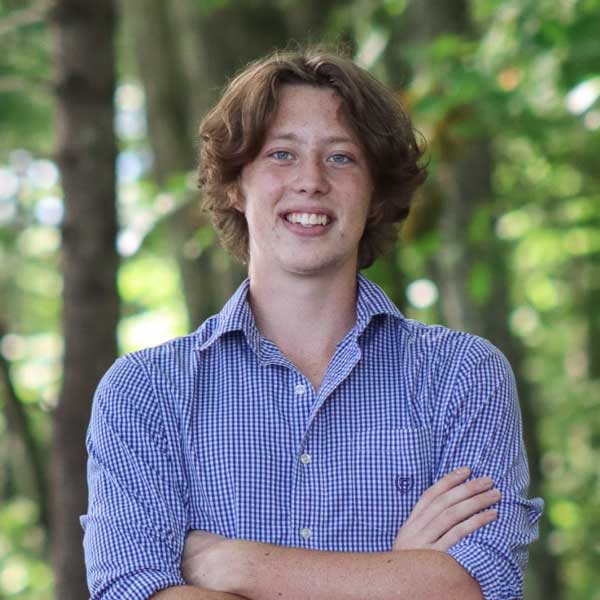 Joshua Warner
Barrington, NH
Colby-Sawyer College, 2025
Academic Scholarship
Joshua Warner
Joshua Warner has his professional goals mapped out. After completing his undergraduate degree at Colby-Sawyer College, he plans to attend Tufts School of Dental Medicine and go on to practice dentistry.
But Joshua's focus on the future doesn't keep him from getting everything he can out of the college experience.
Along with pursuing research opportunities with several professors, he plays on the men's soccer team and participates in numerous extracurricular activities, including the Wesson Honors Program and the student government committee.
"I take pride in helping peers, teammates, and the community around me," said Joshua, who also loves music and any kind of competition.
Finding money to pay for school has been a particular challenge for Joshua. "My parents are extremely hard workers and fundamental role models in my life," he said. "Although they would give me the world if they could, the reality of the matter is that I am responsible for funding my educational journey. The fear of not being able to afford my scholastic and career goals has been a significant stressor."
Josh says the NHHEAF Network Scholarship has helped relieve some of that stress and allowed him to give his full attention to his studies.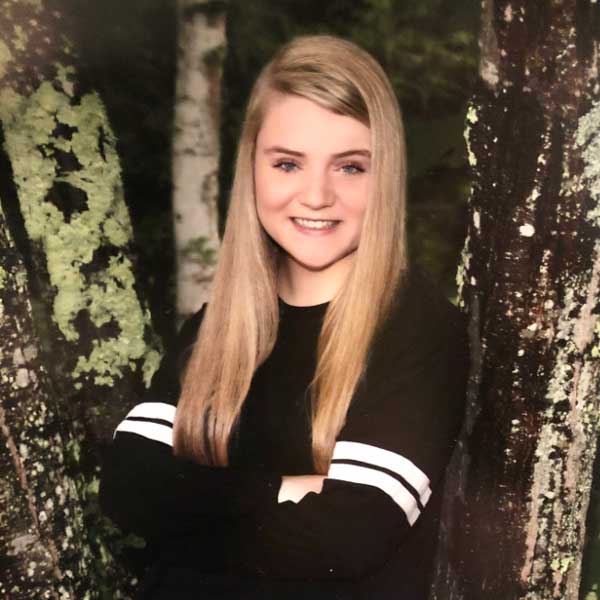 Christina Adamakos
Manchester, NH
University of New Hampshire, 2024
Community Service Scholarship
Christina Adamakos
For Christina Adamakos, volunteering isn't just an obligation to be squeezed into your schedule. It's a way of life.
"I have always had a passion for helping others," said Christina, who is double majoring in neuroscience and behavior and justice studies at UNH.
After working with organizations including the Salvation Army, the local soup kitchen, and the Red Cross through her high school's Key Club, Christina didn't lose momentum when she got to the UNH campus. She helps with the neuroscience honor society's signature fundraiser, "Doggies & Dopamine," at the local SPCA, volunteers remotely for an organization that helps the visually impaired, and has a campus job driving students and teachers with disabilities to classes.
Recently, Christina co-founded a campus chapter of Operation Smile, which raises money for children in need of cleft-lip surgeries in developing countries. "This past fall semester was our first time conducting fundraisers, and we recruited many new members," she said. "In total this year we raised enough money to fund five surgeries!"
Christina's parents fuel her determination to make a difference in the world, as well as to succeed academically. "Striving to make them proud is one of the things that motivates me the most," she said.
This summer, Christina is interning with the NH State Police Major Crimes Unit, assisting on homicide and cold case investigations. Next semester she'll be working in the UNH Forensic Anthropology Identification and Recovery Lab, studying remains excavated from the local area in hopes of identifying them.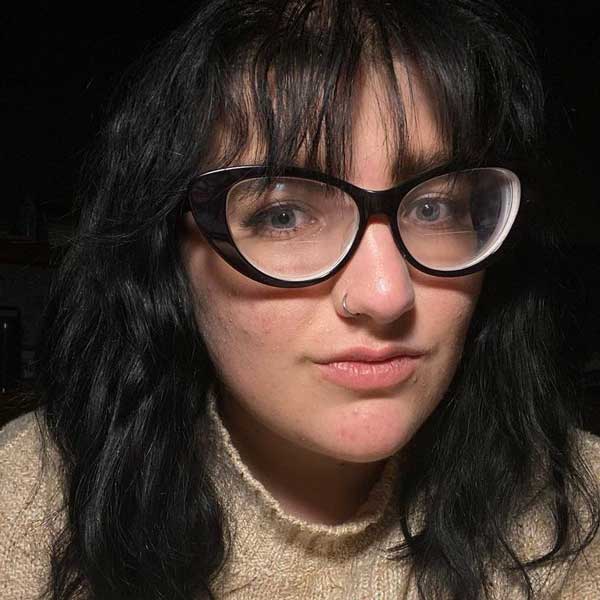 Madigan Jennison-Henderson
Dover, NH
University of New Hampshire, 2025
Community Service Scholarship
Madigan Jennison-Henderson
Watching scientists around the globe battle the COVID-19 pandemic, Madigan Jennison-Henderson felt drawn to the fields of microbiology and immunology. But if choosing a major was easy, what came next was not.
Now a biomedical sciences major at the University of New Hampshire, Madigan is grappling with the complexities of vaccine development and delivery. Along with her classroom and lab work on campus, her volunteer work in the community informs her understanding of public health.
"I have met some of the smartest, most interesting people and seen how they have been consistently failed by the healthcare and welfare systems in the community," she said. "This is why I have accepted a position in a lab researching precursors for vaccine efficacy … I am learning everything I can to try and eliminate barriers to health, happiness, and success."
That mission, and the workload that goes with it, can feel overwhelming, but Madigan thrives on a challenge.
"I am happiest when I am in the uncomfortable period of growth – of learning new skills, especially shepherded by people who truly love what it is they are teaching," she said.
Madigan, who loves running with her dogs, painting, and drumming when she's not studying, said she owes her grit to her mom.
"She has always pushed me to learn more, and encouraged and cultivated my love of learning new things," she said.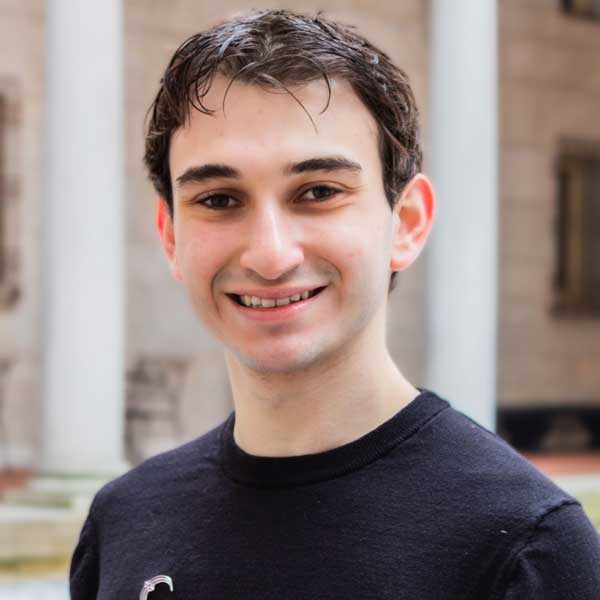 Jake Moralez
Hudson, NH
Berklee College of Music, 2024
Community Service Scholarship
Jake Moralez
For just about as long as he can remember, Jake Moralez has been making music – learning every instrument he can get his hands on, performing across New England, producing his own music, and teaching private music lessons. Now pursuing a music degree at Berklee College of Music, he has his sights set on a career at a major record label.
But that lofty dream hasn't exempted him from real-world experiences and struggles. In high school, Jake participated in a variety of community service projects, including the annual cleaning of the New Hampshire Veterans of Foreign Wars building in his town — lugging objects to and from the building, raking leaves, and cleaning floors and tables.
Jake has also worked several jobs to help pay for school, a responsibility that became more urgent after a life-threatening emergency left his father paralyzed.
"As he was the breadwinner of the family, it made the next year incredibly challenging to make ends meet," said Jake, a first generation college student. "All the while the looming question of 'how can I afford to finish school?' continued to pile on myself."
The NHHEAF Network Scholarship came as a big relief. "Receiving this scholarship does a lot to help alleviate some of the financial difficulties faced by my family," he said.
Jake is looking forward to traveling with the Berklee Advanced Jazz Choir during his senior year.
Michael Levesque
Goffstown, NH
Plymouth State University, 2025
Opportunity Scholarship
Michael Levesque
Football is life for Michael Levesque, not just because he loves the sport, but because it inspires him to excel in other areas and offers him valuable life lessons. So when he suffered a season-ending injury last year, it was more than just a physical setback.
"This was mentally tough on me," said Michael, a business major and first-generation college student. "I had to undergo surgery while still attending school. This was difficult, and one class did suffer."
In the end, though, Michael was able to keep a solid GPA and stay on track with his rehab, and he's working hard to get back on the Dean's list.
"The toughness I have shown through this has shown me how much you can obtain with hard work, focus, and determination," said Michael, who credits his PSU football coach with helping him develop the qualities and character traits to succeed.
He plans to be back on the football field by end of summer.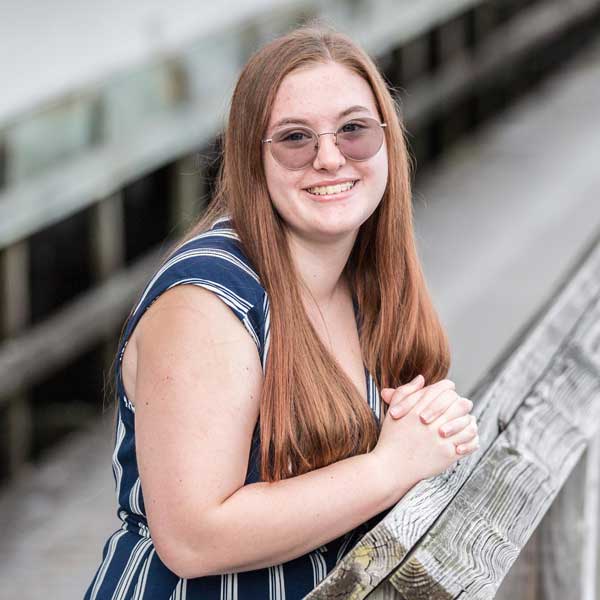 Kelsey Eastman
Penacook, NH
Saint Michael's College, 2026
Opportunity Scholarship
Kelsey Eastman
Inspired by the teachers who made a difference in her life, Kelsey Eastman is pursuing a career in education. But the path to helping others has been a lonely one. A first-generation college student, she's working her way through school and navigating college requirements by herself.
"Money has been one of the hardest obstacles to overcome as I start my college journey," said Kelsey, who is majoring in elementary education and psychology and loves reading, baking, and crafting in her free time. "I have also struggled with being a first-generation college student, as I have no one to fall back on or ask for guidance."
Working part-time jobs all through high school and pursuing every scholarship she could find, Kelsey paid her own way through her freshman year at St. Michael's College but was worried about the future before receiving a NHHEAF Network Opportunity Scholarship.
"Without this scholarship, I may not have gotten the chance to attend the next academic year," she said.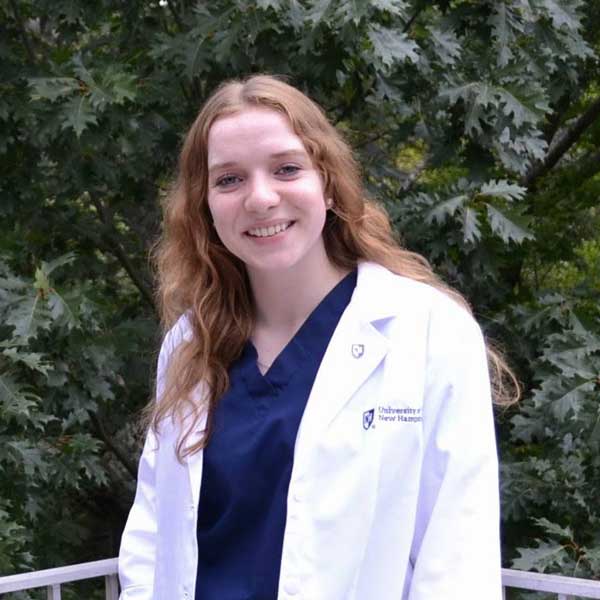 Lindsey Hatfield
Dover, NH
University of New Hampshire, 2025
Leadership Scholarship
Lindsey Hatfield
When Lindsey Hatfield talks about the challenge of balancing her various commitments in college, she's not just talking about studying versus hanging out with friends on a Friday night. A nursing major at the University of New Hampshire, Lindsey is already working as a Licensed Nursing Assistant on a labor and delivery floor at a local hospital.
"I have always had a strong desire to obtain a career that focused on serving and providing for others," said Lindsey, who plans to specialize in maternity nursing.
That desire took root at an early age. Lindsey says her parents have always encouraged her to choose a career that would make a difference in other people's lives and supported her in pursuing that career. "They have been with me every step of the way, and I am beyond grateful to know that they are rooting for me and my success," she said.
Along with her studies and work responsibilities, Lindsey is on the board of the Student Nursing Organization at UNH, helping to organize social events and fundraisers and leading the mentor-mentee program for nursing students. When she has free time, she loves playing volleyball, making music, and spending time with her family, friends, and dog.
Cindy Smith
Twin Mountain, NH
River Valley Community College, 2024
Opportunity Scholarship
Cindy Smith
As a shared-living provider, Cindy Smith takes care of a boy with autism and severe behavioral issues. Though he can't talk, he has communicated some of life's most valuable lessons.
"He has taught me so much about life and helping others," said Cindy, who is pursuing her social services certificate at River Valley Community College and plans to go on to get her Bachelor's Degree – a step she hopes will help her overcome the financial challenges she's known for most of her life. "Finances have always been very tight. In the field that I am in, a college degree means the difference in getting a job that will help me out of poverty," she said.
At the same time, Cindy hopes her degree will allow her to help more people like the boy she has learned so much from. "I also want to make a difference in other people's lives," she said. "That is my true passion. My motto is, if you have the ability to change someone's life, you owe it to yourself to try."
Anya Nicoll
Freedom, NH
Worcester Polytechnic Institute, 2026
Leadership Scholarship
Anya Nicoll
Three years ago, Anya Nicoll learned that a nonagenarian friend wanted to be buried in a pine box but had run up against laws and ordinances requiring cement-lined caskets. At the time, Anya was looking for a project to fulfill her Girl Scout Gold Award, the highest achievement for a Girl Scout. Advocating for natural burials was perhaps an unlikely project for a teenager, but, she thought, why not?
After getting her project approved, Anya studied the obstacles to natural burials at the state level and drafted a bill. Presenting her proposal to a legislative committee, she was shocked by the level and manner of opposition from funeral directors.
"But I did not let the pressure stop me from presenting the facts and answering all the committee questions to the best of my knowledge," Anya said.
The bill was amended but ultimately passed both the NH House and Senate and was signed into law by the Governor in June 2022. Anya then took her crusade to the town level. Last spring, Freedom voters passed a directive that will allow for natural burials in town cemeteries.
"Unfortunately, my friend did not get her wish for her burial, but now all those that come after her will have a choice," she said.
Anya is now studying mechanical engineering, an interest she cultivated while interning at her dad's workplace. The grit she developed through her Gold Award project has served her well in college. "I now know, even faced with adversity, I have the skills to be a leader and make change in the world," she said.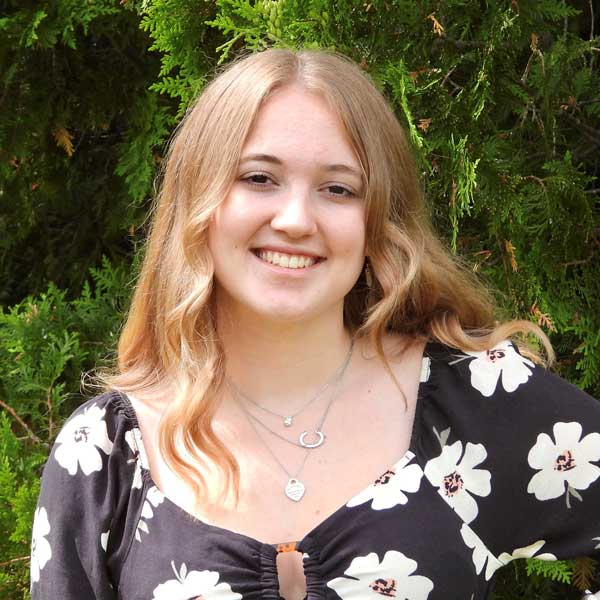 Catie Stapleton
Claremont, NH
University of New Hampshire, 2025
Opportunity Scholarship
Catie Stapleton
Despite the difficulties her own family was facing, Catie Stapleton found ways to help others during high school. Through her school's community service days, a peer outreach group, and other initiatives, she participated in trail cleanups, helped at the local soup kitchen, mentored troubled children, and served food to seniors.
Now, Catie is pursuing a career helping others.
The first in her family to go to college, she's majoring in social work and hopes to work in a hospital setting helping children.
"Growing up, I watched my family struggle," said Catie, who loves painting, waterskiing, and running, as well as spending time with children. "Going to college was a big step for me, and I have had to handle and navigate challenges on my own … I have learned that I can be strong and independent."
The NHHEAF Network Scholarship will help relieve some financial pressure for Catie, who is paying for college herself. "I am beyond thankful to be chosen for this scholarship," she said. "It will assist me in my career goals in life-changing ways."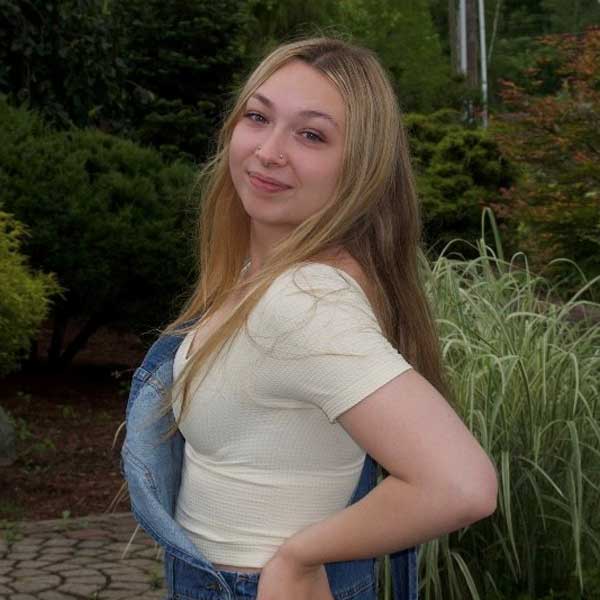 Leah Nelson
Derry, NH
Rivier University, 2026
Opportunity Scholarship
Leah Nelson
Maybe it was the child inside Leah Nelson that pushed her to apply to college. Her grandmother regularly reminds her to stay connected to that inner child, and Leah takes it to heart. She loves how children find joy in little things and maintain a sense of optimism.
Still, Leah did not immediately feel optimistic when one of her high school instructors suggested she apply to Rivier University. No one in her family had gone to college, and though she had her sights set on nursing, she didn't feel cut out for a Bachelor's program.
"I was shocked that she felt I was good enough to fit in within that nursing program," Leah said. "That night I told my mother, and she got all excited. … She wanted to experience a university tour with me because she never had the chance to as a teenager."
After the tour, Leah found the optimism to apply. She'll never forget the day she got her acceptance letter. "It was a giant white envelope with the word 'YES' on the front of it. … I screamed and ran inside to my mother crying tears of joy, and we opened the letter together."
Now looking forward to her sophomore year at Rivier, Leah has also been working as a Licensed Nursing Assistant for the past year. The healthcare shortages have taken their toll on her team, but she tries to stay focused on what's important. She's also committed to making her family proud. "As a first generation student, I never thought I would be where I am today," she said. "Being able to check off my short term and long term goals is such a rush, but it's even better when my whole family celebrates them with me because it also feels like their goals."
Leah's ultimate goal is to become a pediatric nurse and then a pediatric nurse practitioner. "Caring for children does not feel like a job to me," she said. "It feels like a calling, and I love every moment of it."
The NHHEAF Network Scholarship, "Strengthens my determination and reminds me of my main goal," Leah said. "To become the most genuine, empathetic nurse for my community, family, and what my younger self always dreamt of."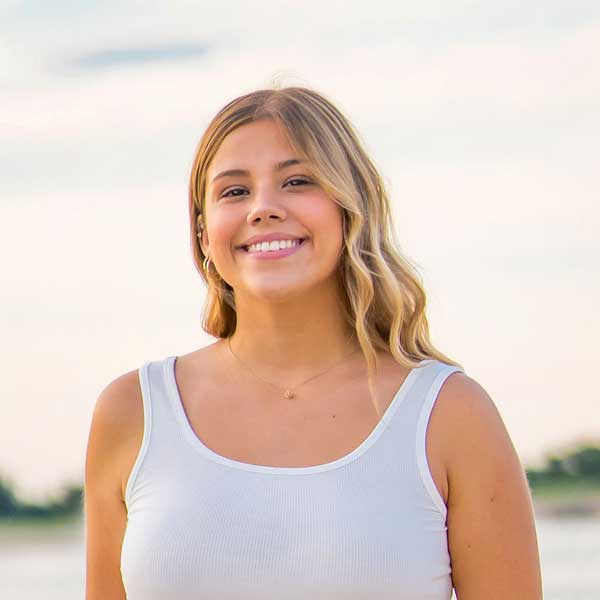 Felicia Vitorino
Pelham, NH
Rivier University, 2026
Leadership Scholarship
Felicia Vitorino
Last spring, Felicia Vitorino took a job assisting with a man with developmental disabilities. Though excited to find work in her chosen field, she didn't know just how profoundly the opportunity would influence her.
"When I went to meet him and his family, you could tell how happy he was," said Felicia, who is majoring in human services at Rivier University. "He hadn't had a support person in years. He kept waiting at the door for the person who used to come."
The work is challenging – Felicia has had to learn how to learn how to interpret her client's needs though gestures and body language – but it has confirmed that she's on the right career path. "I love working with him. It's what I want to do," she said.
The job is one of several that Felicia has been juggling during high school and college. Coming from a big family, she's on her own when it comes to paying for school.
Her mom, dad, and siblings, however, support her in other important ways. They love to spend time together, shopping, camping, or playing soccer, and they always encourage her to pursue her goals. "Mom will always push me to try my hardest in school. Dad will always be there to sit down and study with me before any exam," she said.
After graduation, Felicia plans to pursue her Master's Degree in social work and work in a school or have her own practice. "This scholarship will push me harder to pursue that considerable goal," she said.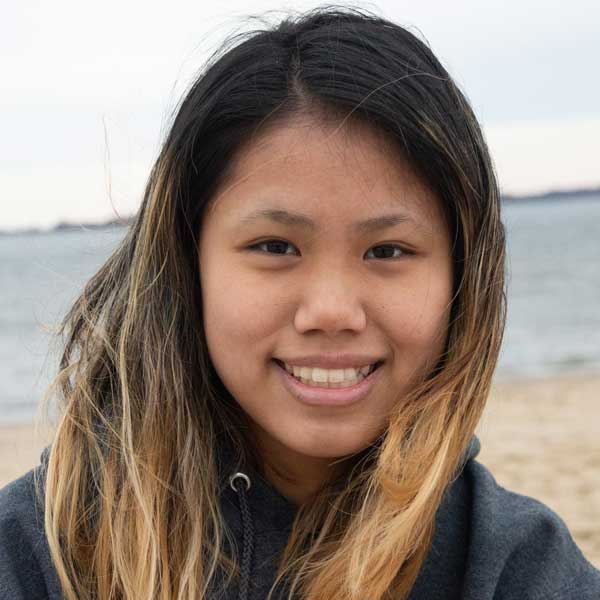 Kristina Schaible
Allenstown, NH
Northeastern University, 2026
Community Service Scholarship
Kristina Schaible
A college campus can feel like its own little universe, far removed from the real world. Kristina Schaible didn't want that kind of experience. As soon as she started her freshman year at Northeastern University, "I wanted to find opportunities that allowed me to learn more about the local community," she said.
Joining a community service organization during freshman orientation, Kristina volunteered at non-profits around Boston, including soup kitchens, clothing donation warehouses, and community gardens. Inspired by the stories she heard, she then got involved with a local community partner, helping area middle schoolers with homework and enrichment activities. An environmental science major, she also participated in multiple beach cleanup efforts and joined the recycling team for the Boston Marathon.
Now taking on leadership roles in two campus service organizations, Kristina says she still struggles with feeling that she's not doing enough. But she's constantly reassured by the young people she meets through her volunteer work, as well as her jobs as a summer camp counselor and substitute teacher. "They are my biggest cheerleaders," she said.
The NHHEAF Network Scholarship will help Kristina continue and expand her community service work by helping her pay for some upcoming conferences. "I hope to connect with other students who also engage in service project at their schools," she said. "I feel like I have so much to learn from my time volunteering at local nonprofits."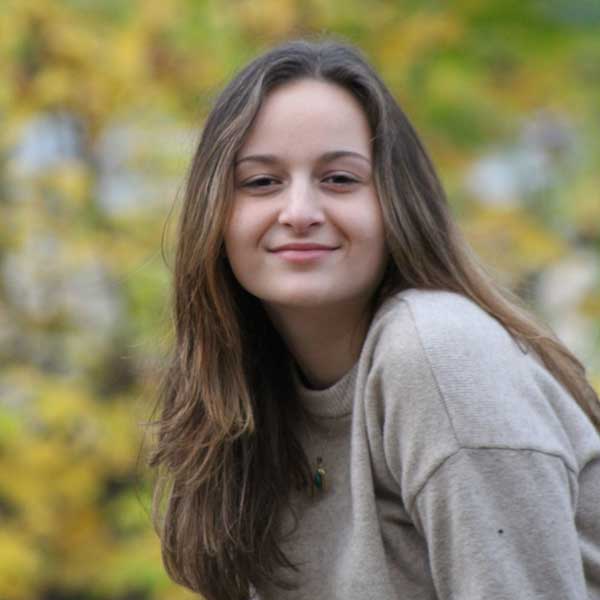 Sabrina Alan
Alexandria, NH
University of New Hampshire, 2026
Community Service Scholarship
Sabrina Alan
No matter their age, all humans need fun and friendship. Sabrina Alan spent her high school years making sure children and families had these basic needs met. Now she's turned her attention to seniors.
Joining her town's teen council when she was 14 and growing into multiple leadership roles, Sabrina saw firsthand how fun events can strengthen the fabric of a community. "We put on clothing drives, daycare events, teen nights, local craft fairs, holiday events, special Olympic youth events, and youth sports," she said. "Not only did I contribute to my town, I had a lot of fun with my friends doing good work. I began to see the need for these free or low-cost community events for both children and their parents."
A political science/ justice studies major, Sabrina now volunteers for Love For Our Elders, a campus organization that aims to combat loneliness and spread joy in nursing homes and long-term care facilities.
It was her mom, she said, who instilled in her a love for making a difference in the world. "She has always shown me the value or hard work and personal satisfaction when you love what you do," she said.
Now studying abroad in Budapest, Hungary, Sabrina is interested in the ways justice systems and other institutions shape the lives of individuals and communities. She hopes to one day apply her work at a non-profit community center like the one where she volunteered as a teenager.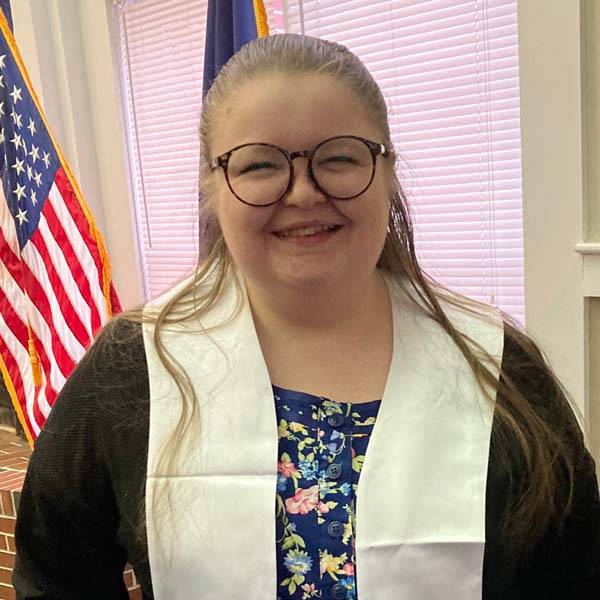 Hattie Cavallaro
Manchester, NH
New England College Institute of Art and Design, 2024
Leadership Scholarship
Hattie Cavallaro
Hattie Cavallaro had no intentions of getting involved at college. Starting her freshman year at age 24 due to health issues, her plan was to "get in, get my diploma, get out."
That changed when Hattie was asked to participate in New England College's peer leader program, teaching an introductory course to college freshmen about college life skills.
"I decided to give it a try and it honestly changed everything for me," said Hattie, who has a rare auto-immune disease that can cause her heart rate to leap unexpectedly, sometimes forcing her to leave class or go on bed rest. "I've always enjoyed helping people, but I didn't know how much I would enjoy leadership."
After joining the peer leader program, Hattie went on to work as a college tour guide, conduct advocacy for the school's disabled students, and join multiple committees. Next year she'll be president of two of them.
Next year will also be a year of transition for Hattie, as the college shuts down its Manchester campus and moves the arts programs to the Henniker campus. A former commuter who lived with her family, she'll use the NHHEAF Network Scholarship to help pay her dorm fees.
After graduating in the spring with a degree in fine arts, Hattie wants to become a curator. "I want to bring in art and exhibitions that are more disability friendly and art that depicts disability," she said. "Museums are for everyone, and everyone should be able to have equal access."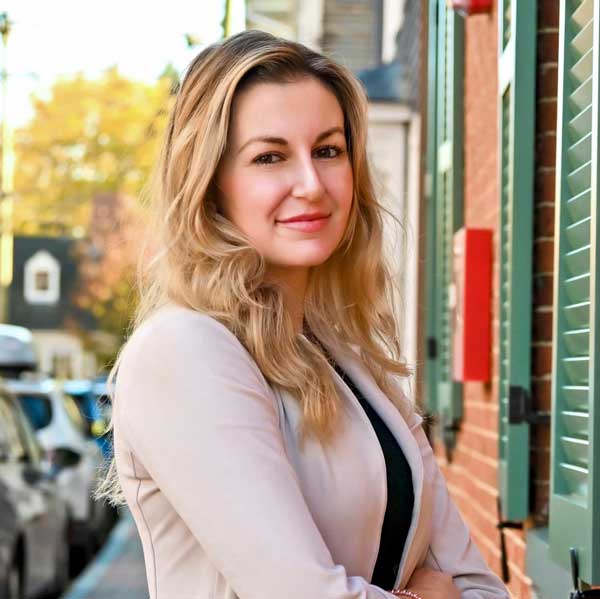 Sierra Holmes
Dover, NH
University of New Hampshire, 2024
Academic Scholarship
Sierra Holmes
Growing up in a single parent home, Sierra Holmes didn't think college was an option for her.
After graduating from high school in 2010, she jumped right into the workforce. Eventually, though, "I knew I wanted to better my life," she said. "I knew I would have to make that happen on my own."
Going back to school in 2017, Sierra earned her Associate's Degree in business administration from Great Bay Community College. She's now studying homeland security at UNH and is on track to be the first in her family to graduate from college next spring.
"I'm a non-traditional student putting myself through college, which has proven to be very difficult not only financially but also in terms of time," said Sierra, who credits her fiancé with helping her handle the pressures and workload of juggling school and work.
Despite the difficulties, Sierra is eager to keep pursuing new goals. After graduation, she hopes to find a job in environmental security and then go on to earn her Master's Degree.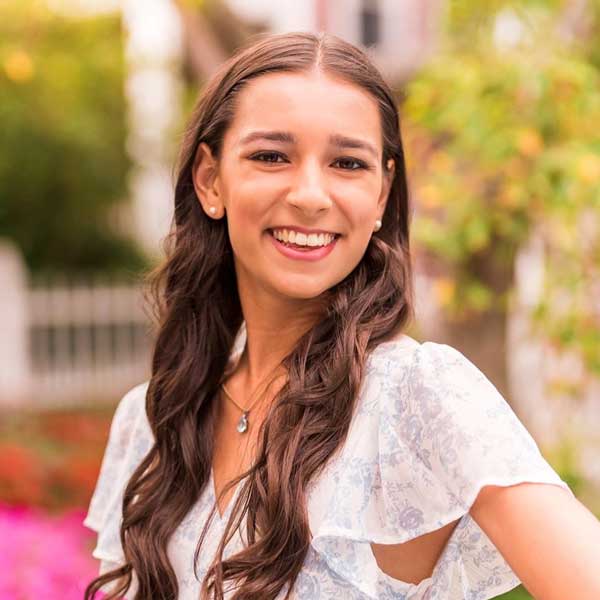 Anna Qamarudeen
Manchester, NH
Tulane University, 2025
Community Service Scholarship
Anna Qamarudeen
Volunteering at Catholic Medical Center and the American Red Cross during high school, Anna Qamarudeen felt a strong pull to the healthcare field. She didn't know that pull would carry her so far from home.
Researching colleges with strong public health programs, she discovered Tulane University in New Orleans, Louisiana.
"I was very nervous because it is located … very far from home," Anna said. "My parents helped me realize it was the best college for my area of study."
Determined to pursue a career in public health, Anna took the leap. Now, she can't wait to return for her second year. Not only does the school have a top-rated public health program, but it's afforded her many ways to engage in public service. An avid dancer, she joined a student group that raised money for the Children's Hospital of New Orleans through a dance marathon. Altogether, the group raised more than $27,000.
By offsetting some of her tuition for next year, The NHHEAF Network Scholarship will help Anna devote a little more time to projects like these.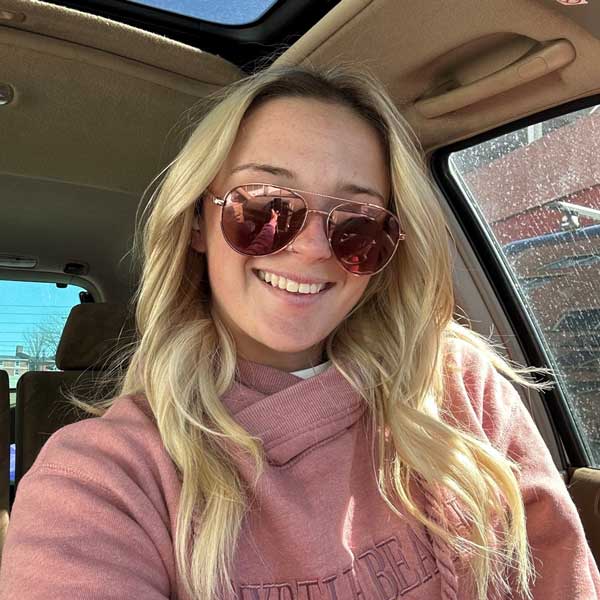 Brynna Meeker
Northwood, NH
Keene State College, 2025
Community Service Scholarship
Brynna Meeker
Many young people gain a new appreciation for home while away at college. For Brynna Meeker, home was never a concept she took for granted. As a young teenager, she and her family were often without a place of their own, relying on the kindness of friends and setting up makeshift living quarters in people's basements.
"When my father died in my junior year in high school, things got more difficult," said Brynna, who is transferring to Keene State College for her senior year this fall. "My mother, myself, and my twin brother moved in with my grandmother and uncle, in her three-bedroom mobile home. The three of us share a room when we are all home from college. It is not ideal, but it has made me appreciate a roof over my head."
Along with gratitude, Brynna's experiences have taught her empathy. "My parents worked hard and … they made sure we knew that there were people whose lives were more difficult than ours," she said.
While at Worcester State University, Brynna took classes on urban studies. "I became more aware of the difficulties that homeless individuals face, from addiction to not being able to find a job to get out of their situation because they don't have a permanent address or appropriate clothing for an interview or to wear to a job," she said.
After college, Brynna hopes to volunteer for organizations that provide support for people who are housing insecure. Her professional goal is to teach K-2 in Chicago, in an area of the city where the education system is underfunded and students don't have the same access to opportunities as students in other areas.
She knows it will be challenging work, but she draws inspiration from a close friend, Drew, who passed away last Thanksgiving. "Prior to her death, Drew encouraged me to be my best self," Brynna said. "In her death she has inspired me to take more chances and embrace the things I love."
One of those things is softball, an abiding passion during the ups and downs of Brynna's high school years, when she played on a travel team as well as coaching younger girls. Now a college athlete, she recently organized a charity baseball/softball game to gather donations for the local food pantry – in hopes of helping families who are struggling the way her family has.
"As a result of living the way we did and having people help us when needed, I have always given back when I can," she said.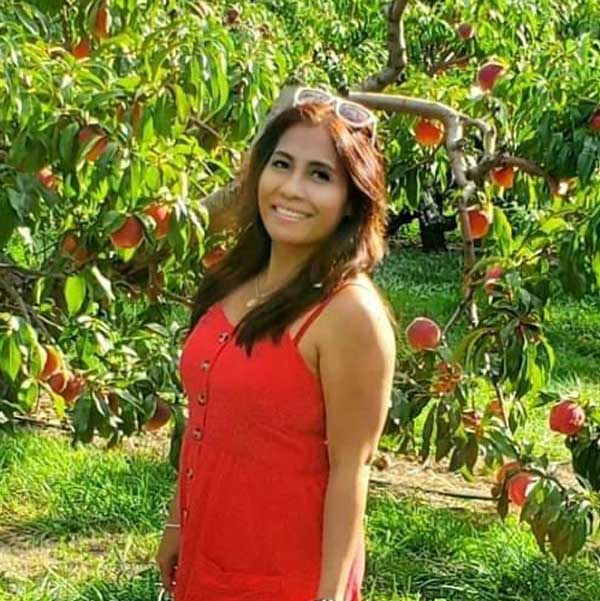 Rona Playda
Manchester, NH
Manchester Community College, 2024
Opportunity Scholarship
Rona Playda
Returning to school wasn't easy for Rona Playda. It had been 20 years since she started attending college back home in the Philippines, only to be forced to drop out due to finances.
"I still remember my first day in school and how scared I was," said Rona, a single parent who works full time as a licensed nursing assistant and takes care of her mom.
Though one of her fears was that she'd never catch up with all the technologies and techniques younger students had mastered, Rona nevertheless chose the cutting-edge field of cybersecurity.
"The field constantly evolves, so there are always opportunities to expand my knowledge and develop new skills," she said. "I'm particularly interested in learning about advanced tools like artificial intelligence and cryptography."
Rona, who is also a self-taught artist, hopes her degree will help her secure a better future. And she knows her children are watching.
"I want to show an excellent example to my children that education is the key to success," she said.
Sara Gates
Manchester, NH
UNH College of Professional Studies, 2024
Community Service Scholarship
Sara Gates
A single mom caring for a teenager with multiple disabilities, Sara Gates still found time to start a local branch of End 68 Hours of Hunger, a nonprofit program that provides food for school-age children on the weekends. In 2019, after four years of running the program in the Raymond/Freemont area, she moved to Manchester but was unable to find anyone to take her place.
So, she continues to run the program herself, shopping for food, lugging it to a church basement, and dividing it up for the 80 students who rely on it, along with managing the fundraising, social media, and bookkeeping.
Seeing firsthand the struggles that children face, Sara is now pursuing a post-baccalaureate teaching certificate in emotional and behavioral disabilities at the University of New Hampshire's College of Professional Studies (formerly Granite State College).
"I want to be the trusted adult in a school setting for these students so they know they are safe and accepted when they are with me," said Sara, who is also an assistant Boy Scout troop leader and loves hiking in the White Mountains.
After securing a position at a school, Sara hopes to run a food pantry out of her office there as well. "Anyone who needs food for any reason can take what they need, no questions asked," she said.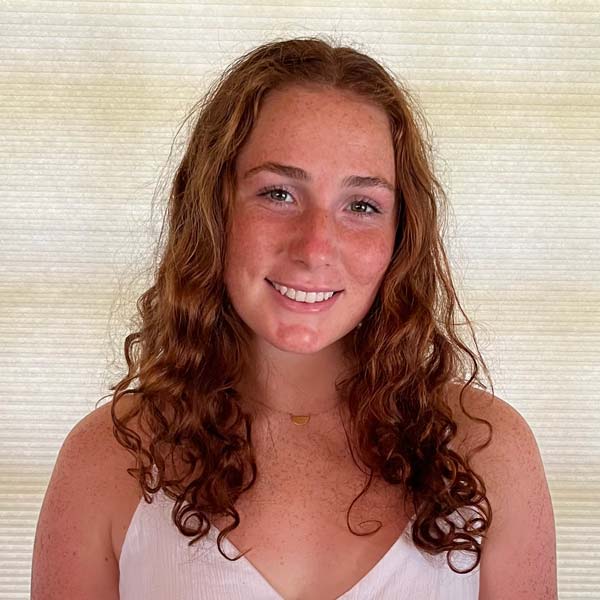 Rosie Crooker
Francestown, NH
Union College, 2026
Community Service Scholarship
Rosie Crooker
Watching children play in the water from her perch on the lifeguard chair all summer, Rosie Crooker is filled with pride. In her five years working for the local recreation department, she has taught dozens of children to swim and be safe around the water.
"I absolutely love this job," said Rosie, who also volunteers with her local fire department when she's home. "I thrive working with families and providing individuals with real, lifelong safety skills."
Returning to Union College for her sophomore year this fall, Rosie is looking forward to being in the Red Cross Club and serving on the Orientation Leadership team, helping new students as they arrive on campus. A neuroscience major, she ultimately wants to become a doctor and work to make positive change in the medical field.
The NHHEAF Network Scholarship will take off some financial pressure, allowing her to pursue medical internships while she's home on school breaks.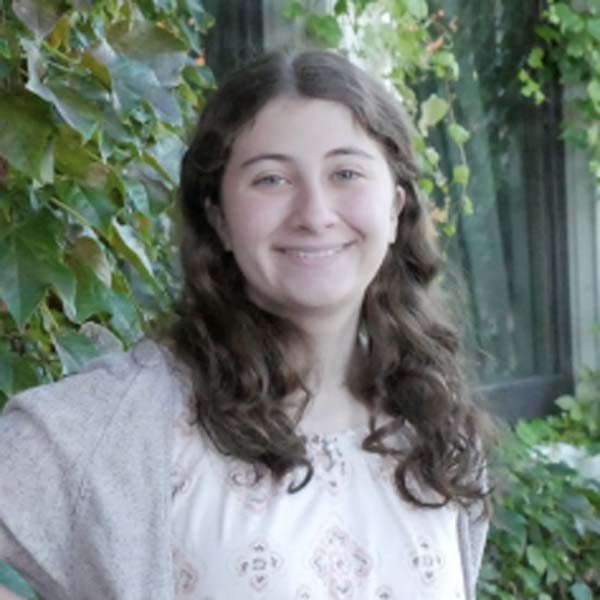 Megan McLaughlin
Brookline, NH
Saint Anselm College, 2025
Community Service Scholarship
Megan McLaughlin
It had no name at first, the thing that gripped Megan McLaughlin's thoughts day and night. The feeling could best be described as an overwhelming urge to be perfect and avoid failure, and it seemed never to leave her side.
Eventually, Megan discovered what it was: anxiety. Now, she's learning to overcome it by naming it, owning it, and deconstructing it.
"It is something I work to do every day," said Megan, who is pursuing a degree in education. "Over the years, I have learned that it is up to me to decide how much space my anxiety occupies in my life."
One way she gives anxiety less space is by filling her life with meaningful goals, such as teaching the next generation.
"The world needs thinkers and doers and kind hearts – and I truly believe that every single student already has these identities within them," Megan said. "Above all, I would hope to become a mentor and supporter for rising students – somebody who can not just validate their dreams but help them build practical scaffolding to reach them."
Megan credits her own teachers with helping her develop her vision and values. "I believe that the largest reason I have chosen to study education is because of the huge difference that my previous educators have made in my life," she said. "Beyond calculus and literature, they have taught me what it means to approach the world with kindness – with an endless drive to learn, and to use what I learn for good."
In her free time, Megan is involved with a variety of community service projects that she says bring balance and purpose to her every-day life. She has organized blood drives, assisted with various nature and conservation projects, and written holiday cards to members of the military.