For students applying early, the late FAFSA is adding a new wrinkle to admissions
You've likely heard by now that the Free Application for Federal Student Aid (FAFSA) is getting an overhaul and will be opening late this year – sometime in December instead of October 1. 
If you're applying to college for the first time, the FAFSA is probably new to you anyway. But its late arrival is causing a bit of a chain reaction that could affect some students' application process—particularly if you're applying Early Action or Early Decision.
"All of the schools have their own process in how they're handling it," explained Shawn Kithcart, an education and career counselor at Granite Edvance. "It's really case by case."


Hello, CSS
Some students will be getting acquainted with a different financial aid form this year: The CSS Profile (or College Scholarship Service profile). Many colleges were already using this form to calculate their own financial aid offers. But it appears that some additional schools are using the CSS Profile to figure aid for students who are applying Early Decision or Early Action this year, Kithcart said.
To be clear, all students should still fill out the FAFSA when it opens. It's the only way to apply for federal financial aid, including grants, work-study, and loans. It also unlocks other types of aid, including many private scholarship programs.
But if you're applying Early Action or Early Decision, you may first encounter the CSS Profile, depending on the school or schools you choose. Check cssprofile.collegeboard.org for a list of schools that are currently using it.
To fill out the 2024-'25 CSS Profile, you and your family will need their 2022 tax returns, as well as financial records for the current year.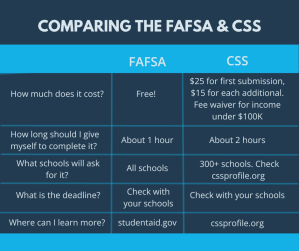 Know your deadlines
The deadlines for Early Action and Early Decision at many colleges are already upon us, but a lot of schools have a second round of Early Decision, typically in January. Early Decision 2 isn't new, but it could serve a valuable purpose as colleges deal with the fallout of the late FAFSA. There's a lot we don't know yet, but for students, it may be helpful to be aware of that option, explained Lily O'Connor, an education and career counselor at Granite Edvance.
As for whether to apply Early Action, Early Decision, or Regular Decision, that's a different question altogether, O'Connor said. While she often recommends Early Action, a non-binding option that gives students a bit more time to take college tours and apply for scholarships, every case is different, she said. Students should work with their school counselors to determine what's best for them.
In fact, this year, perhaps more than ever, it's important to stay in close contact with your school counselor as well as the admissions counselors at the schools you're applying to.
"Don't panic," O'Connor said. "Just do your research and ask questions."
"It's a little messy this year, but remember, everyone is going through this process together, " Kithcart added. "If you advocate for yourself and ask questions, the process will be less daunting."
Want to learn more about the application process? Check out our 2023-24 Admissions Insider.